We are proud to announce that Audiophilia.com named our new Level 5 Signature Speaker wires as Product of the Year!
The Audiophilia writers listed their choices, including many as "runner up", "special mention" and "honorable mention", but if you scroll to the bottom of their Product of the Year lineup, you will see that Martin Appel chose our Level 5 Signature Speaker wires as the Product of the Year.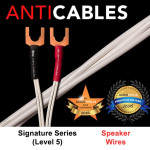 The Level 5 Signature Speaker Wires were originally reviewed by Mr. Appel last September. You can read the entire review HERE, or if you want a quick read of the highlights, here are some snippets from that review:
"Along with killer imaging it was apparent that detail, resolution and transparency were off the charts and placed these 5 Signatures in rarified air. Instruments were so well defined — at times it was startling. It was as if each instrument had its own envelope of air surrounding it."
-Martin Appel, Audiophilia

"I must report, to these ears, the 5 Signatures got the musical timbres of instruments as correctly as I've ever heard. I think the combination of characteristics also contribute the fact that the leading edge of notes or transient attack is accomplished without sounding edgy or hard and still produces a full, three dimensional image that is smooth and texturally complete. This is so difficult to achieve that one usually suffers at the expense of the other."
-Martin Appel, Audiophilia
ANTICABLES would like to thank both Mr. Appel and Editor Anthony Kershaw for their efforts and the recognition we have received from their fine publication.


Paul Speltz
Founder & President, ANTICABLES