Dear Fellow Audiophiles,
Earlier this summer, ANTICABLES teamed up with Spatial Audio and Vinnie Rossi at LAAS 2017. I'd love to share with you some of the fun we had at the show. As well as press coverage we received for our room. Enjoy!

Paul Speltz
Founder, ANTICABLES
___________________________________________________
"Lock, Stock, and Barrel"
One of the most amazing things that can happen at an audio show is putting together a demo room that sounds really good. What's even more amazing is putting together a room that sounds so good, an attendee asks to buy the system. That's right, the whole system. Lock, stock, and barrel. Well, that is exactly what happened to us in Room 476.
Sunday afternoon, the show was slowly coming to a close as vendors began to wrap things up and prepare for the journey home. After visiting our room quite a few times over the weekend, a local audiophile found his way back one more time. It was then that he declared it the best sounding room he had heard at LAAS. Keen to recreate the same aural experience at home, he asked to buy it all. This amazing offer came with the caveat that the entire system is delivered and set up right away. We eagerly agreed.
As soon as the show ended, I packed up at the venue while Vinnie and Clayton took care of our new favorite customer. They hauled the LIO amp, X1 speakers, and ANTICABLES to his home outside LA. Even after setting it up again and getting the system sounding great, they still managed to make it back in time for us all to have a celebratory dinner together.
A victory all around. LA gained a very happy audiophile, and we didn't have to haul the system back with us. We are looking forward to seeing what happens when the three of us team up again this fall at T.H.E. in Anaheim and RMAF in Denver. We hope to see you there!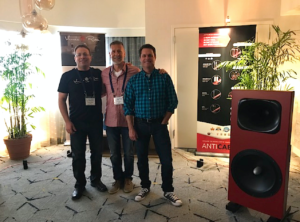 Vinnie Rossi, Paul Speltz, Clayton Shaw
___________________________________________________
LAAS 2017
ANTICABLES  /  Spatial Audio  /  Vinnie Rossi  /  Room 476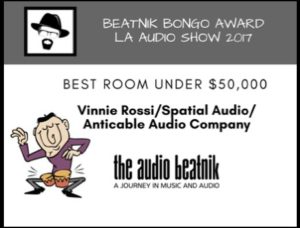 Graphic courtesy of The Audio Beatnik
"The cables were provided by ANTICABLES Audio Company. There was Level 3.1 Reference Series USB Digital Interconnect, a pair of Level 3.1 Reference Series Speaker Wires for woofers, a pair of Level 5 Signature Speaker Wires (for horn), and a Level 3 Reference Series Power Cord."
"Discovering the simplicity  of this system and its total cost blew me away. I have heard and reviewed digital sources that cost more than this entire system. That would still be true if you added the phono preamp module to the LIO and a first class analog source to the system. You could also make these additions and keep the system price under $50,000." 
"So, it is a very easy call for me. This simple and great sounding system wins the Beatnik's Bongo Award for the Best System Under $50,000. Don't forget, as the room was set up, this incredible system was just a little over $25,000. Well done to all! "
– Jack Roberts: The Audio Beatnik
___________________________________________________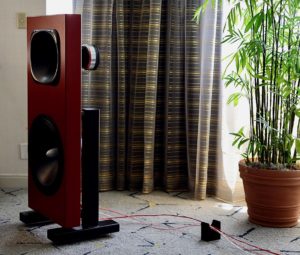 Photo Courtesy of John Stancavage of Part Time Audiophile
"Speaking of wire, the Rossi integrated was connected to the X1s with Paul Speltz's amazing ANTICABLES. Speltz recently introduced his Level 3.1 Reference Series copper speaker wires ($340 for a 10-foot pair). He also is breaking into the premium market with his new Level 5 Signature silver-gold speaker cable ($3,500 for a 10-foot pair)."
"Rossi and Shaw used runs of the 3.1 for bi-amping the X1's woofer and the silver-gold Level 5 for the compression driver."
"Other ANTICABLES in the system included the Level 3.1 Reference USB digital interconnect ($390) and the Level 3 Reference power cords ($330 each)."
"Speltz may not have designed those cables specifically for the Rossi and Spatial gear, but they sounded like they could have been."
"Together, the components came together to create a rare musical alchemy. That's something special that you need to hear yourself."
– Part Time Audiophile: John Stancavage's LAAS 2017 coverage
___________________________________________________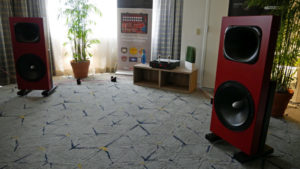 Photo Courtesy of Jana Dagdagan of Stereophile

"The sound… was widespread, transparent, and profoundly engaging—the perfect end to my Los Angeles Audio Show experience."