Inside ANTICABLES Workshop
I would like to give immense thanks to our customers, for their continued loyalty; and our dedicated employees who deliver outstanding service and quality products. This month we're giving you a peek inside the ANTICABLES workshop, and at some of the folks that make things happen.
Paul Speltz, Founder; ANTICABLES
Ralph, Product Assembler

Each time you place an order with us, it is hand-assembled by our team in Lake Elmo, Minnesota USA. Ralph is one of our product assemblers, specializing in speaker wires and interconnects.
Ralph has worked with us since 2006, but in 2011 timing collided when he retired from his day job and ANTICABLES was experiencing a period of growth allowing him to work for us on a more regular basis. Ralph's previous career was in prototyping integrated circuits – a very meticulous job working daily under a microscope; a valuable skill-set to the detail-oriented nature of assembling ANTICABLES, and undoubtedly a factor in our outstanding quality control. Ralph says he enjoys the "relatively stress free environment" here as he puts it, which allows him time to devote to his many interests outside of the office.
When Ralph isn't at ANTICABLES, he can be found immersed in his varied hobbies from tube amp restoration to model rocketry and gardening, as well as enhancing his own audio systems. Another great passion is vintage British sports cars, including a '61 Jaguar E-Type Roadster (below, left) which he has spent years restoring, as well as a '65 Triumph Spitfire (below, right). Ralph can often be found touring the rural Wisconsin country-side (and generally just babying and admiring them).
Judy, Co-Founder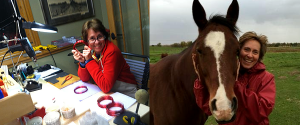 Every order at ANTICABLES is carefully managed from start-to-finish by our office manager and logistics coordinator, Judy Speltz (co-founder).  Judy answers many of your emails, and is "the voice" of ANTICABLES when you call. Judy also lends a hand to make products when production is back-logged! Being a small business, we consider ourselves a family, which creates a strong working environment and contributes to our success.  When Judy (originally a native of Ontario, Canada) isn't busy keeping ANTICABLES running, you will most likely find her immersed in her passions for nature or the Arts. She's the first to be out gardening after spring thaw, and the last out working as the snow starts flying.  She also enjoys spending time with her equine friend; her horse, Max. If she's lucky sometimes she can even get Paul to 'tack up' for a ride now and then!  Judy is also passionate about the Minnesota music scene; from the Minnesota Orchestra to the Dakota Jazz club or a good old fashioned Rock Concert. She is also a frequent theater goer, and at one time, she even graced the stage as a member of the Brave New Workshop doing Improv comedy!
Paul and Judy are entering their 4th year as volunteers with the Courage Riders program (photo right, below), assisting kids with various disabilities ride horses. Judy also volunteers with the county's Mounted Patrol, and assist with Search and Rescue efforts for their local sheriff's department.
Paul and Judy met in college in 1981, where she notes, "Paul's love of music was apparent. You could always count on Paul to provide the music wherever he went. He was the guy that had the best sounding and most complete audio system on campus. It was clear to me audio would always be a part of our lives!"   And, it still is.