by Thomas Speltz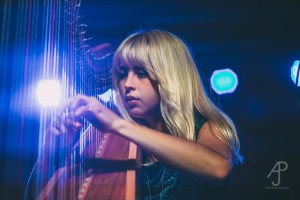 Last week I went to a concert at The Dakota Jazz Club  in Minneapolis. When I took my seat at the venue I saw that there was a big beautiful harp on stage. Excitement and anticipation bubbled up inside me as I was not expecting to see a harp. In fact, I had never even heard harp in any of the music by the artist I was about to listen to. Because I spend most of my time seeing theatre, opera, and orchestra it didn't occur to me that there would most likely be an opening act. Sure enough, Mikaela Davis entered the stage, sat down at her harp, and took my breath away.
When she began to play her first song, 
My Light Is Always On
,
I immediately thought of the well known singer, songwriter, and harpist Joanna Newsom, but as soon as Davis started to sing I could tell that she undoubtedly had unique voice of her own. It was amazing to me how she was able to make the harp sound different throughout the piece. At times I heard a harp but other times I heard a mandolin, a guitar, a sitar, a dulcimer. "I think a harp can do anything," Davis declares, and I'm inclined to believe her.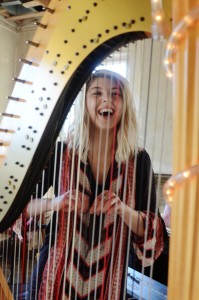 After her 30 minute set I was eager to hear her recorded work. On listening to the two albums I purchased from the merchandise table I discovered that Davis is not a solo performer. In both albums, her and her harp are accompanied by a small rock ensemble. At first I was disappointed that the songs were a total change of pace from what I had listened to at The Dakota. The music was missing that intimacy I loved in a voice and harp. But as I continued to listen I found myself recognizing what loved about her live performance in the mix of the larger ensemble.
In exploring more of her music on iTunes, SoundCloud, and YouTube I was able to get a better picture of what Mikaela Davis is all about. Her compositions and arrangements cleverly combine elements of 
folk
, 
psychedelic rock
, and 
chamber pop
 and her voice reveals a wisdom and ruefulness that belie her years. She employee the harp as a pulse, a rhythm, or a texture that seamlessly integrates into the rock-band context. I hope, as I continue to follow her work, that she maintains her ambitious stride in being a singer, songwriter, and harpist.
Save