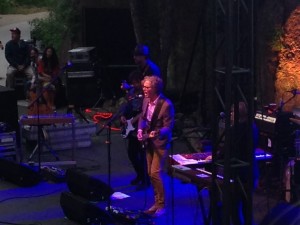 by Judy Speltz
For the past three summers we have been attending "Music in the Zoo" concert series at the Minnesota Zoo — a small amphitheater setting outdoors among the animals.
In late June we settled into a fantastic concert with three encores: The Jayhawks. We've had a couple of their albums for years, listening to them as they make their way through our music rotation. Paul noted, "I've always wanted to be able to like The Jayhawks more than I did, and seeing them in person achieved that".
I have to agree — WOW, what a great night. Seeing live music is always exciting, especially when it's an intimate setting, but their music is still resonating in my head a week later.
How do you define them: are they folk, are they soft rock? Greg Louris's guitar playing could really grind out the Rock side of their music, yet the harmony and lyrics to their songs are soulful and steadfast.
The night was a pleasant surprise for us, and we hope you will take an evening to become more familiar with this long standing Minnesota original, The Jayhawks.
Save
Save
Save