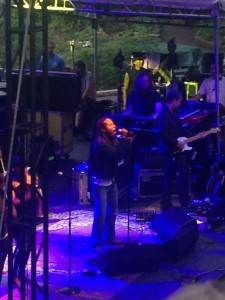 This past June we attended a 'Music is the Zoo' concert (part of our local Minnesota Zoo summer concert series), featuring Ziggy Marley.
His concert came on the heals of the Orlando tragedy, when our country was feeling heavy with sadness and frustration.  He walked out on stage, the crowd rose and we never sat down for the entirety of his performance — two hours plus an encore.
His music, with its message of Love, Peace, Joy, and Mother Earth was so uplifting and full of celebration, and really brought a few thousand strangers together, as only Reggae music can do.  Like his father, Bob Marley, Ziggy held the crowd in his hand as we all moved to the groove of "Is this love", "Jammin", and "No Woman No Cry". It was a magical evening and one we will remember with great fondness!