Hear us this weekend!

July 28-30, Hilton Oakland Airport Hotel
We invite you to come hear our cables this weekend at the California Audio Show at the Hilton Oakland Airport Hotel. This was a last minute opportunity, so we won't be listed on the caaudioshow.com website, nor will we be listed in the show directory, but you will be able to find us in Room 5231.
We are teamed up with Clayton Shaw of Spatial Audio, who will be showing his new $3,995/pr M3 Triode Master speakers. I first heard a prototype version of these speakers at AXPONA in April and instantly put in an order for a pair.
The speakers are being driven by a Vinnie Rossi LIO integrated amplifier. The LIO is a DAC, preamp, and power amplifier all rolled into one chassis, and has won many awards including

Stereophile Class A rating, The Absolute Sound Editors' Choice Award, 6Moons Lunar Eclipse Award, and more.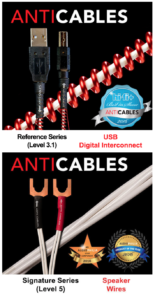 To get the best out of this gear, the system will be wired with ANTICABLES Level 3.1 Reference Series USB Digital Interconnect and Level 5 Signature Speaker Wires.
Unfortunately, I will not be able to attend, but please be sure to get a chance to meet Clayton in Room 5231. While there, look for the new ANTICABLES brochure. In it will be a price list and a very generous Coupon Code for show goers towards your next purchase of Speaker Wires, Interconnects, and Power Cords.

Paul Speltz
Founder, ANTICABLES