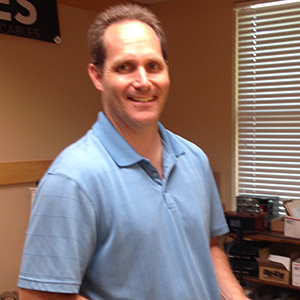 Each time you place an order with us, it is hand-assembled by our team in Lake Elmo, Minnesota USA. Scott is one of our product assemblers, specializing in assembly of our high end power cords.
A Long History of Interest in Audio
Scott's first recollection of his interest in high-fidelity audio was as a kid; when his older brother had two different high-end stereo systems (of which Scott still has a few vintage Pioneer pieces).
Scott and ANTICABLES
Scott's history with ANTICABLES is a long one– since he has known ANTICABLES' founders Paul and Judy since college in the 1980's, when they would tinker with building DIY speakers together. Despite their long history of friendship, Scott first came to work with ANTICABLES in 2012 upon release of the Power Cords – a very labor-intensive, hand-assembled product, that required just the right detail-oriented person to take it on!
Outside ANTICABLES
When Scott isn't laboriously building power cords for ANTICABLES, he is working on his licensing to become a building inspector (another highly detail-oriented job!) Prior to his careers in inspections and at ANTICABLES, Scott was previously a full-time gymnastics coach – for 25+ years! He is also an outdoor enthusiast with a wide range of hobbies from bicycling to hiking, snowboarding, kayaking, tennis and much, much more.